Seward Sweeps Dodge City on Sophomore Day
Brock Kappelmann - May 1, 2021 6:50 am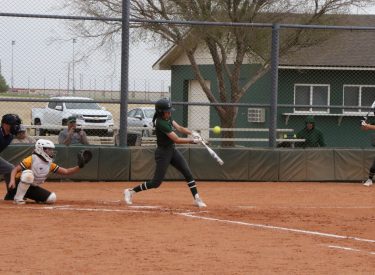 LIBERAL, Kan. – Seward County Community College swept Dodge City Community College on sophomore day with a game one 10-9 victory followed by a dominant performance 11-1 win. Alyssah Pontoja hit a walk-off home run that scored three to give the Lady Saints the 10-9 victory and Irland Caro came up big from the circle in game two with just one run allowed.
In the first game of the day, Seward County took a 2-0 lead after a two-run home run from Jacie Scott that scored Jaci Oakley from first base. The two teams went scoreless in the second, third, and fourth innings with both teams unable to get their offense established.
Dodge City got into the game in the bottom of the fifth with six runs to take a 6-2 lead over Seward County. The Saints added two more in the bottom of the fifth with a double from Jacie Scott that scored AJ Luna and Melissa Crisanti. The Conquistadors hit a home run and scored off of an error in the top of the sixth to extend their lead 8-4.
Melissa Crisanti hit into a fielder's choice that scored Ayanna Clemons to get the Saints within three at 8-5. Dodge City hit an RBI single to left to get back in front by four, 9-5. Seward County responded in the bottom of the seventh with two-run home run from Jaci Oakley that scored Jacie Scott to trail 9-7. Alyssah Pontoja hit a walk-off home run two batters later to score Ashley Low, and Ayanna Clemons to win 10-9.
Hannah Schulman received the win for the Saints with one and two-thirds innings pitched and allowed zero earned runs on three hits. Alyssah Pontoja started the game and went five and a third innings with five earned runs, and ten hits.
For the final game of the day, the Saints started off hot with the momentum from the first game victory. Jaci Scott started off the scoring with a double to center field that scored Macy Cesa-Spearman from second base. Alyssah Pontoja continued her hot hitting with a double that scored Jaci Oakley and Ayannah Clemons for Seward to lead 3-0.
Dodge City scored their only run in the top of the second inning off of a single and cut the lead down to 3-1. The Saints responded in the bottom of the second with Ashley Low's sacrifice fly that scored Alondra Galindo from third base. Ayannah Clemons followed up with a double to score Cesa-Spearman and Scott. Alyssah Pontoja singled to left field to score Ayannah Clemons to give Seward County a 7-1 advantage.
Ashley Low started off the bottom of the fourth inning with a home run to give the Saints an 8-1 lead. AJ Luna later in the inning singled to left field to score Clemons and Crisanti, and the next batter Alondra Galindo grounded out but scored Emily Mojica. Seward County closed it out in the top of the fifth inning on the run rule to win 11-1 and sweep Dodge City.
Ireland Caro lasted five innings, with five hits, allowed one run, and struck out four batters to receive the win.
Seward County has now won five games in a row and will look to close out their season on Saturday in Goodland, Kansas against Northwest Kansas Technical College.