Seward Suffers 1st Conference Loss
Brock Kappelmann - October 3, 2022 6:35 am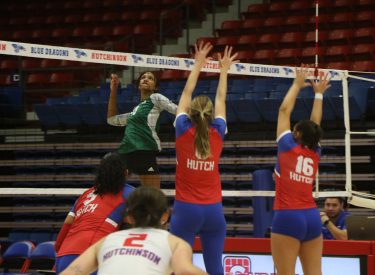 Kenny Hernandez
HUTCHINSON, Kan. – Seward County Community College's volleyball program falls to Hutchinsons in straight sets for their first loss in the KJCCC. The Lady Saints lost with set scores of 25-19, 25-14, and 25-19 on the road in the Hutchinson Sports Arena. With the loss, the Lady Saints fall to 18-5 on the year and 7-1 in conference play.
To start the match, the Lady Saints trailed early 8-5, and the Blue Dragons added to their lead in the set with a 6-2 run to take a 14-7 advantage. Seward County used its timeout to look to regroup after a large deficit of 16-7. The Lady Saints responded with a 6-3 run of their own to cut the Ble Dragons' lead down to 19-13. The lead was too large to overcome on the road as Hutchinson won the first set 25-19.
In the second set, the Lady Saints were down early 10-6 to the Blue Dragons and could not get back in front of Hutchinson. As the Blue Dragons looked to take a two-set lead, they went on a 5-0 run to lead 17-8 over the Lady Saints. Seward County could not get their offense going in the second set as Hutchinson won the set 25-14.
Seward County fought back in the third set and went up early 6-5 over Hutchinson. Both teams exchanged points as the Lady Saints had the lead 15-14 but could not extend the match as Hutchinson went on an 11-4 run to close out the third set, 25-19.
The Lady Saints will look to bounce back with a match at Dodge City Community College on Monday, October 3rd at 6:30 PM.