Seward Struggles in Sterling
Brock Kappelmann - January 30, 2021 6:44 am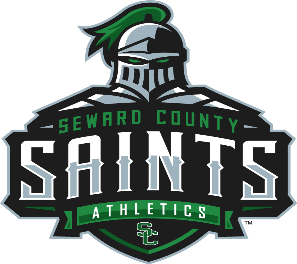 Kenny Hernandez
LIBERAL, Kan. – Seward County Community College volleyball team suffers first loses of the season on the first day of the Northeastern Junior College Tournament. No. 3 Lady Saints first lost to No. 2 Snow College 3-0 and later fell to No. 9 Northeastern Junior College in the final match of the night. With three matches in 24 hours, the Lady Saints conditioning was tested early to start the season. Seward County is now 1-2 overall and will play No. 11 Utah State Eastern at 12:30 PM and will finish the tournament against No. 6 Iowa Western Community college at 3 PM.
Lady Saints had unforced errors that haunted them in the first match against Snow College. To start the match Coach Geno Frugoli had to take two early timeouts to get his team back under control. Seward was able to create some good opportunities that turned into points but could not climb all the way back against the Badgers. Snow returned plenty of players from their national tournament team a year ago and they were in sync.
In the second game of the day, the Lady Saints took on the home team and No. 9 Plainsman. The first set would be a battle but would end with Northeastern taking it 25-20. The Lady Saints were able to gain the lead early in the second set but Northeastern responded to take the second set 25-20. The third and final set of the match was a testament to the team's conditioning in the preseason. Both programs battled but it went to the Plainsman 25-19.
Seward County will look to respond tomorrow at 12:30 PM against Utah State Eastern as they still look for their first win of the weekend.
For more information go to SewardSaints.com or follow along on social media @SewardSaints.