Seward Strikes Early in Barton Sweep
KSCB News - March 15, 2014 7:17 am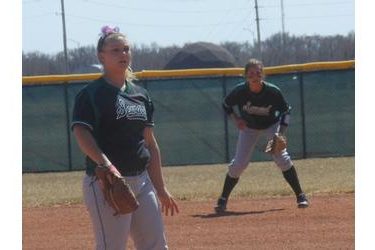 Seward built healthy leads in both games of a double header sweep over Barton Friday at Lady Saints Field. The Lady Saints won 10-4 and 8-3 to improve to 21-4 overall and 4-2 in the Jayhawk West.
In game one Seward scored four in the first and three in the third to lead 7-0 after two. The lead ballooned to 8-0 after three. Danielle Orr slammed a home run over the right field fence and drove home three runs on the game. Marissa Chavez, Andrea Sitter, and Becky Allen had three hits a piece. Katelyn Craker pitched Seward to the win allowing seven hits and striking out eight.
In game two, the Lady Saints scored one in the first and six in the second to lead 7-1. Andrea Sitter and Tiffanie Bolanos collected two hits a piece. Brittany Hopkins pitched SC to the win.
Seward leaves Saturday for Arizona. Here is there schedule.
Mon. 17
at South Mountain Community College
Phoenix, Az
10:00 AM
vs. Lake Region State College
Phoenix, Az
2:00 PM
Wed. 19
at Glendale Community College
Glendale, Az
2:00 PM
at Glendale Community College
Glendale, Az
4:00 PM
Thu. 20
at Mesa Community College
Phoenix, Az
1:00 PM
at Mesa Community College
Phoenix, Az
3:00 PM