Seward Sports Information Guide Second Nationally
KSCB News - June 26, 2013 6:31 am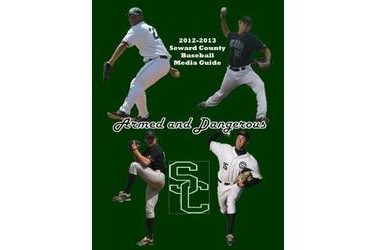 For the first time in school history, a Seward County Athletics Media
Guide has captured a National award. Last week at the College Sports
Information Directors of America's annual convention in Orlando,
Florida, it was announced that the Saints Baseball Media Guide was voted
second best in the nation in the college division by CoSIDA members.
The college division of the contest was made up of all non-Division I
schools in the country and was won by Embry-Riddle University from
Dayton Beach, Florida. The Saints guide took second place in the
contest and fellow Jayhawk Conference member Johnson County was the
third place recipient.
The Seward County Baseball Media Guide was originally designed by former
Sports Information Director Scott Lacefield and has been kept up by
current Seward SID Roy Allen. The guide, which is now 149 pages long
covers every aspect of Seward County baseball including history,
records, facilities, season preview/review, as well as information about
the college.
Contestants for the CoSIDA publications contest were judged on graphics,
design, editorial, team information, season review, program history,
conference information, and general information.
To see the award winning guide yourself CLICK HERE
<http://www.scccsaints.com/images/stories/PDFs/web2013.pdf> (please
note pictures have been compressed for website viewing) or stop by the
Sports Information Office to check out a copy.