Seward Splits with Frank Phillips
Brock Kappelmann - March 16, 2023 6:42 am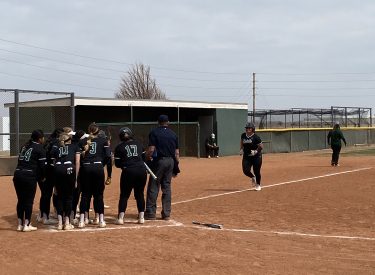 The Seward County Saints softball team hosted the Frank Phillips Plainsmen Wednesday afternoon at French Family Field.  On a warm windy day with the wind gusting out to left field, FPC won game one 13-5 and SCCC took game two 10-2.
In game one, Avery Ragsdale and Marisela Landa hit home runs.  The Plainsmen jumped on Seward early for three in the first, five in the second, and two in the third.
In game two, the Saints scored two in the second, four in the third, and one in the fourth for the 7-0 lead.  SCCC added three in the sixth.  Ashanti Thompson hit two home runs in the win.  NaTalia Sewell went four innings allowing two runs. Corina McClure pitched two shutout innings.  Seward is 8-16 and Frank Phillips is 8-7.   Seward plays a double header at Pratt on Friday.