Seward Splits Wind Blown DH with Independence
Brock Kappelmann - March 30, 2021 7:18 am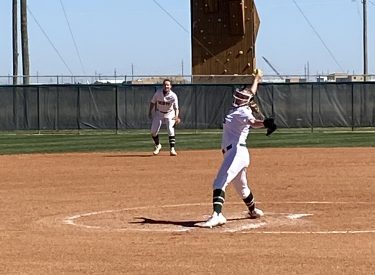 With temperatures howling out of the southwest and temperatures in the 80's, Seward and Independence played a high scoring game and a low scoring contest.  Seward won the first game 10-6 before Independence took game two 2-0 in nine innings.
In game one, the Pirates scored one in the first.  Seward used a five run third inning to take the lead.  Indy added a fourth inning run before the Saints scored four in the bottom of the fourth to lead 9-2.  Independence struck for three in the fifth before SCCC scored in the bottom of the sixth.  The Pirates scored a run in the seventh.  Ashley Low hit a three run home run.  Macy Cesa-Spearman, Alyssah Pontoja, and Jaci Oakley had two hits a piece.
In game two, with the same weather conditions, neither team scored until the ninth inning when Independence scored two to take the win.  Indy held Seward to three hits and Seward committed four errors.  Ireland Caro pitched all nine innings with 12 strikeouts.
Seward is 7-9 and 6-4 in the Jayhawk West.  Independence is 11-9 overall and 3-3 in the Jayhawk East.  Seward plays at Dodge City on Thursday.