Seward Spiker Jayhawk West Player of the Week
KSCB News - September 5, 2012 1:18 pm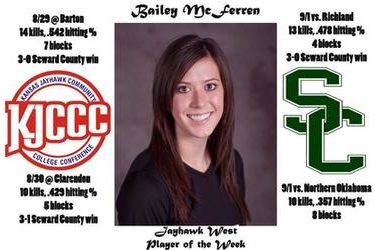 Following a nearly flawless week on the court, Seward
County sophomore middle hitter Bailey McFerren has been named the
Jayhawk West Conference Player of the Week. McFerren led Seward to
three wins last week including a conference opening win on the road at
Barton by averaging 2.78 kills and 1.35 blocks per game for the Lady
Saints. McFerren hit .403 on the week, hammering down 64 kills and
committing just 8 errors in six Seward matches. Against Barton on
Wednesday she had 14 kills and 7 blocks in a Seward sweep and followed
that up on Thursday with a 10 kill, 5 block performance against
Clarendon. She had three more double digit kill matches as she put down
12 against Vernon and 13 against Richland before finishing the week with
a 10 kill, 8 block match against Northern Oklahoma. It is the first
time in her Seward career that McFerren has received the honor.
McFerren and the Lady Saints will host Colby Wednesday night at 6:30 in
the Greenhouse in their 2012 Jayhawk West Conference opener.
Roy Allen