Seward Softball Splits with Colby
Brock Kappelmann - April 20, 2019 6:54 am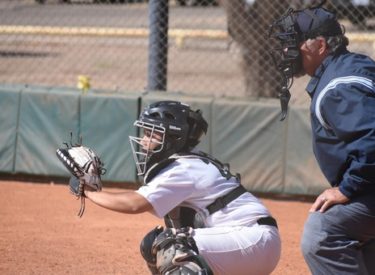 LIBERAL, Kan. – The Seward County Community College softball team split a doubleheader with Colby Community College, losing the first game, 10-2, but winning game two, 11-6, on Wednesday at French Family Field. The Lady Saints are 8-9 in the Jayhawk West and 12-26 overall.
Seward hosts Northwest Tech for a doubleheader on Saturday at French Family Field. Prior to the scheduled doubleheader, the teams will finish a suspended game at 1 p.m. The doubleheader will follow.
GAME ONE
Seward gave up a big inning and could not bounce back in the opening game loss.
The Trojans jumped out to a 1-0 lead in the first inning, but the Lady Saints tallied twice in the second inning for a 2-1 advantage. Alyssah Pontoja had an RBI single and Cassandra Esquibel stole home for the two runs. That would be the only runs Seward could come up with for the rest of the game.
Colby scored five times in the fifth to put the game away at 6-2. The Trojans added a run in the fifth and three more in the seventh for a 10-2 final score.
The Lady Saints mustered up seven hits with Jordan Cordrey and Pontoja collecting two hits apiece. Nicole Nelson, Emily Mojica and Esquibel had the other three hits.
Jordan Cordrey took the loss, allowing 10 runs, five earned, on 12 hits, striking out six, walking four and yielding a homer over seven innings.
GAME TWO
Madeline Owen and Emily Mojica each went 4-for-4 with three RBI to power Seward to a victory in the nightcap.
The Lady Saints managed to double up the Trojans after two innings at 6-3. After trailing 1-0, Seward scored four times in the bottom of the first to take a 4-1 lead. Run-scoring singles by Jaci Oakley and Owen along with steals of home by Owen and Mojica accounted for the runs.
Colby scored two more times in the top of the second to slash the deficit to one run, but Seward answered back with two runs of their own on Mojica's RBI single and a run being scored on a throw and regained their three-run lead.
Seward and Colby traded runs in the fourth and fifth innings, each scoring three runs. The Lady Saints added single runs in the fifth and sixth innings to open a five-run lead and cap the scoring at 11-6.
The Lady Saints received plenty contributions on offense. Miranda Nester, Nissy Lechuga, AJ Luna and Nicole Nelson each had two hits to pace Seward's 18-hit attack.
Alyssah Pontoja gave up six runs, four earned on 15 hits, struck out one and walked one over seven innings in picking up the complete-game victory.