Seward Softball Splits Home Opener
Brock Kappelmann - March 21, 2021 8:23 am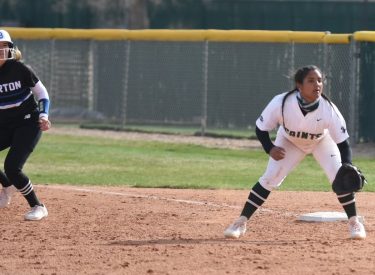 The Seward softball team played at home Saturday for the first time since March 7, 2020.  It was a blustery day, but it was worth enduring to play at a French Family Field which saw improvements to the field and facility during the off season.  The Barton Cougars won the first game 15-1 and SCCC took game two 6-5.  Seward has split all three of their conference series so far.
In game one with the wind howling in from right, Barton plated 15 runs of ten hits and four Seward errors.  The Cougars scored one in the third and seven in the fourth to lead 8-0.  Barton scored seven more in the seventh.  AJ Luna and Jaci Oakley had two hits in the loss.
Seward took an early lead in game two with one in the first and second and two in the third for a 4-1 lead.  The Saints added two in the sixth and led 6-1.  Barton rallied with one in the sixth and three in the seventh.  Barton out hit SCCC 12-8 but the Cougars had four errors compared to one SCCC error.  Ayanna Clemons was 3-4 with a double and an RBI.  Alondra Galindo was 2-3.  Alyssa  Pontoja got it done in the circle with a complete game with five strikeouts and no walks.
Seward is 4-8 overall and 3-3 in the Jayhawk West.  Barton is 5-15 and 1-5 in the Jayhawk East.  Seward hosts Independence Monday at 1 at French Family Field.