Seward Softball Presents Too Much Green for Lamar
Brock Kappelmann - February 21, 2022 5:59 am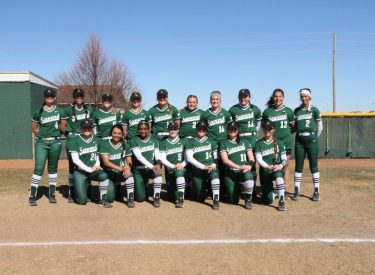 Wearing their all green uniforms on a beautiful Sunday in late February, Seward's softball team swept Lamar Sunday at French Family Field.  SCCC won 6-4 in game one and 8-0 in game two.
Lamar jumped out to a 3-1 lead after one inning in game one.  But SCCC plated one in the second and four in the third for a 6-3 lead.  Macy Cesa-Spearman and Vivien Gabehart had two hits a piece.  Sara Lock hit a home run.
Game two ended with a run rule after six innings.  Seward scored six in the fourth before tallying single runs in the fifth and sixth.  Ireland Caro spun the complete game shutout scattering three hits.  Macy Cesa-Spearman had two hits, two runs, and two RBI's.
Seward improved to 7-3 with the win.  Lamar is 0-10.  Seward plays at Otero Monday at 1pm central time.