Seward Softball Player on the Mark in Classroom
KSCB News - May 20, 2013 1:12 pm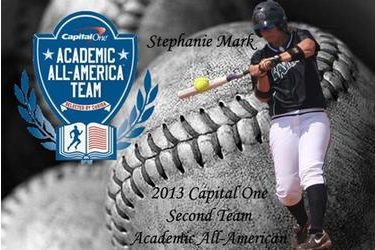 Seward County sophomore Stephanie Mark added yet another prestigious
award to already jam packed trophy case on Monday as the Lady Saints 1st
baseman for the past two seasons was named a Capital One Second Team
Academic All-American. To take the award to the next level, Mark was
the only junior college student-athlete in the country to be given the
award and was one of just three sophomores to be named to the first or
second team.
Mark was a 1st Team All-Region VI and 1st Team All-Jayhawk West
selection on the diamond for the Lady Saints this season. She led
Seward County in batting average (.432), doubles (19), home runs (17),
and RBI's (70) among other categories. While what mark did in 2013 was
impressive, it might be what she didn't do that was the most impressive.
In 215 at bats this season for Seward, Mark struck out just 5 times,
including an amazing stretch of 114 straight at bats without a
strikeout at the end of the Lady Saints regular season.
She leaves Seward County as the all-time leader in hits (174), doubles
(45), and RBI's (122), shattering all of those marks throughout her
sophomore campaign, and finished second all-time in career batting
average (.447) and home runs (27).
An Ogden, Utah native, Mark went into the Spring 2013 semester with a
3.83 GPA and is an Engineering major.
The Capital One Academic All-American College Division Softball Team is
comprised of student-athletes from across the country who compete for
non-NCAA schools. To be eligible for Academic All-American
consideration, a student-athlete must be a varsity starter or key
reserve, maintain a cumulative G.P.A. of 3.30 on a scale of 4.00, have
reached sophomore athletic and academic standings at his/her current
institution and be nominated by his/her sports information director.
To view the rest of the 2013 College Division Capital One Academic
All-American selections, see the list below.
Academic All-America of the Year: Emma Napier, Campbellsville
FIRST TEAM
Pos. Name School Yr.
Hometown G.P.A. Major
P Sam Cole Davenport Sr.
Belleville, Mich. 3.93 Business/Sport Management
P Megan Nonnemacher(3) Saint Xavier Jr. Bloomington,
Ill. 3.87 Elementary Education
C Jade Bourgeois Spring Hill So.
Geismar, La. 4.00 Mathematics
INF Danielle Bayer Missouri Baptist Sr.
Florissant, Mo. 3.90 Sports Management
INF Emma Napier (2) Campbellsville Sr.
Scottsville, Ky. 3.92 Business
INF Kate Mollohan (1) Saint Xavier Sr. Tinley
Park, Ill. 3.78 Mathematics
INF Caitlin O'Hagan St. Gregory's Jr.
Choctaw, Okla. 4.00 Biomedical Sciences
OF Sarah Frerichs Saint Ambrose Sr. Fisher,
Ill. 3.89 Biology
OF Brooke Sampson (2) Doane Sr.
Bakersfield, Cal. 3.83 Elem. & Special Education
OF Kara Usherwood Robert Morris (Ill.) Sr. Atlanta,
Ill. 3.95 Graphic Design
DP Allison Blackwood (2) Cumberland Sr. Leoma, Tenn.
3.59 Early Child Growth & Education
SECOND TEAM
Pos. Name School Yr.
Hometown G.P.A. Major
P Karisa Hendrix Williams Baptist Sr.
Cherokee Village, Ark. 3.70 History
P Aubrey Utley Central Methodist Jr.
Trenton, Mo. 4.00 Biology
C Brittany Lewis Bethany (Kan.) Sr.
Glendale, Ariz. 3.67 Elementary Education K-6
INF Sarah Beckman William Carey Jr. Meridian,
Miss 3.92 Biology / Pre-Med
INF Stephanie Mark Seward County CC So. Ogden, Utah
3.83 Engineering
INF Molly Mills College Of Idaho Sr.
Burley, Idaho 3.72 Health Science
INF Megan Tieken (3) Nebraska Wesleyan Sr. Omaha, Neb.
3.88 Accounting
OF Tonya Berta Siena Heights Sr. Ida,
Mich. 3.70 Language Arts
OF Brittany Dunson Mobile Sr.
Pensacola, Fla. 3.47 Exercise Science
OF Bethany Holaway Olivet Nazarene Sr. Wheaton,
Ill. 3.76 Psychology
DP Emily Krienke Oklahoma City So. Calgary,
Alberta 3.92 Biomedical Sciences
THIRD TEAM
Pos. Name School Yr. Hometown
G.P.A. Major
P Natalie Newell Bethel (In) So.
Goshen, Ind 3.85 Elementary Education
P Emma Remy Morningside Jr.
Urbandale, Iowa 4.00 Political Science, Business Admin.
C Nicole Green Saint Ambrose So. Dewitt,
Iowa 4.00 Psychology
INF Maddie Byrd USC Beaufort So. Ramstein,
Germany 3.69 Human Services
INF Allie Foley Marian (Ind.) Jr.
Fishers, Ind. 3.59 Business Marketing
INF Amanda Martinsen Ottawa Sr.
Morrisville, Mo. 3.73 Human Services
INF Alex Miller Cal State San Marcos Jr. San
Diego, Cal. 3.41 Human Development
OF Hannah Cook-Kelley William Carey So. Phoenix,
Ariz. 3.72 Biology
OF Katrina Loy Rogers State Sr.
Claremore, Okla. 3.95 Business Administration
OF Jamie Rateliff Oklahoma City So. Mustang,
Okla. 3.67 Biochemistry
DP Courtney Dennis Central Methodist Sr. Sierra
Vista, Ariz. 3.74 Communication
(1) Capital One Academic All-America(r) first team selection in
2012
(2) Capital One Academic All-America(r) second team selection in
2012
(3) Capital One Academic All-America(r) third team selection in
2012
Roy Allen