Seward Softball Makes Run to Region Finals
Brock Kappelmann - May 9, 2022 7:18 am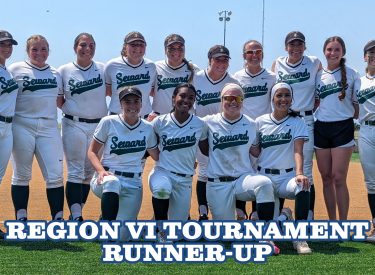 What a run this weekend for Seward softball.  After limping to the finish line of the regular season by losing six straight, Seward got up off the canvas at the Legend Park in Dodge City this weekend.  After Friday's 4-3 upset win over Colby, Seward shocked Hutchinson Saturday 4-2 before a 9-1 loss.  Sunday SCCC ousted Hutchinson 5-2 but lost to Butler 7-2 in the Region 6 championship game.
In Saturday's game against the Hutchinson Blue Dragons, Seward scored a run in the fifth and a run in the sixth to lead 2-0.  Beth Denney slammed a two run home run in the seventh for the 4-0 lead.  Hutch scored two in the seventh but it wasn't enough as Seward had the upset win.  Hutch out-hit the Saints 8-4. That set up a Saturday afternoon winner's bracket match-up with Butler who beat SCCC 9-1 in six innings.  Butler out-hit SCCC 12-4 and Seward had four errors.
Sunday, Seward ousted #15 ranked Hutchinson 5-2.  Both teams scored in the first.  Seward bolted ahead with four in the sixth.  Seward advanced to the Region 6 championship on Sunday but lost to Butler 7-2.  Butler scored three in the third and four in the fourth to lead 7-0.  SCCC scored one in the fourth and one in the sixth.  Maddy Pack hit two home runs.
Seward finished 26-27.