Seward Softball Honored with Jayhawk West Awards
Brock Kappelmann - May 9, 2019 6:47 am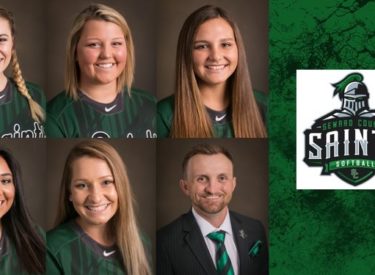 LIBERAL, Kan. – Five Lady Saint softball players and their coach have been recognized with Jayhawk West All-Conference awards.
First baseman Maddie Owen, second baseman Miranda Nester and utility Jordan Cordrey were named First Team All-Conference while third baseman Emily Mojica and outfielder Nicole Nelson were named Second Team All-Conference. First-year coach Ryan Wondrasek was named Co-Coach of the Year.
Owen, who played first base, led the team with eight homers and 37 RBIs and had a .366 batting average this past season. Nester had a team-leading .412 average with two homers, 22 RBIs and a team-high 17 doubles. Cordrey, who also pitched in 26 games, batted .369 with two homers and 20 RBIs while Nelson led the team with 17 stolen bases, batted .314 and scored 32 runs. Mojica, the lone freshman of the bunch, batted .365 with six homers with 28 RBIs.
Wondrasek in his first season led the Lady Saints to a second-place finish in the Jayhawk West at 14-13 and 18-31 overall.