Seward Softball Duo Sweeps Weekly Awards
KSCB News - April 27, 2011 6:41 am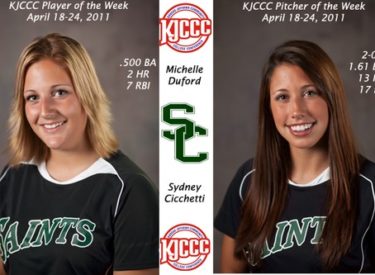 After a 3-1 week, Seward County's Michelle Duford and
Sydney Cicchetti have been named the KJCCC's Player and Pitcher of the
Week. Duford earns Player of the Week honors for the second time this
season after hitting an even .500 on the week for the Lady Saints. She
was 4 for 8 on the week for Seward, blasting 2 home runs and driving in
7 runs in just the 8 at bats. Monday against Barton she finished with a
home run and 5 RBI's and Wednesday against Garden City she finished 3
for 4 with another home run and 2 RBI's. Cicchetti was named the Pitcher
of the Week for the 8th time this season after a perfect 2-0 this week
for the Lady Saints, while racking up 17 strikeouts in just 13 innings
pitched. Monday against Barton she allowed just 1 hit in a shutout
against the Cougars and followed that up with a 12 strikeout performance
in a win against Garden City on Wednesday.