Seward Softball Catcher Player of the Week
KSCB News - May 1, 2012 1:32 pm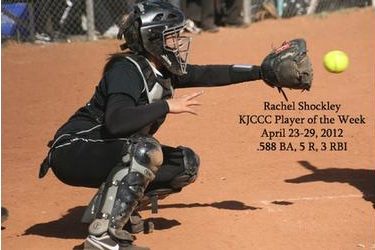 For the second time this season, Seward County Lady
Saints catcher Rachel Shockley has been named the KJCCC Player of the
Week. Shockley finished off a spectacular Jayhawk West Conference
season this week by hitting .588 in four Seward County games. Tuesday
against Lamar she went 2 for 4 in each game, collecting 4 hits and 2
runs scored on the day and followed that up by banging out 6 hits in 2
games against Colby on Friday. In game one against the Lady Trojans she
was 2 for 5 with a run scored and an RBI and in game two she was a
perfect 4 for 4 with a double and 2 RI's. She finishes Jayhawk West
Conference action as the Lady Saints top hitter at .491 with a team
leading 14 RBI's in conference play.
Roy Allen