Seward Softball Blows Past Storm
KSCB News - March 30, 2015 6:26 am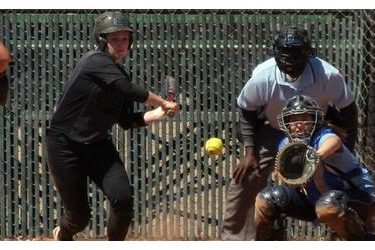 The Seward County Lady Saints won their fifth and sixth straight games Saturday afternoon at Lady Saints Field in Liberal, hammering the visiting Southeast Lady Storm 10-2 and 9-0 to sweep a doubleheader and improve to 23-13 on the season.
Seward got it going early and often in this one, scoring three times in the top half of the 1st inning of game one on RBI singles from Kennedy Brunson and Kolby Hamilton to jump out to a 3-0 lead.
Southeast got an unearned run back in the top half of the 2nd to make it a 3-1 game, but Seward added two more on a Storm defensive miscue to push their lead back to 5-1.
A sac fly off the bat of Danielle Orr gave Seward a 6-1 lead in the 3rd but Southeast matched it with a run of their own in the inning to make it a four run game at 6-2.
The game looked like it might go the distance until the Lady Saints turned things up in the bottom of the 5th with two outs. Jaidyn Mawhinney singled home a run to make it 7-2 and on the next pitch to the plate Brunson continued her big game with a two RBI double to push the lead to 9-2. One pitch later Hamilton ripped a double of her own and in the matter of four pitches, the Lady Saints had four runs and the game was over 10-2 due to the run rule.
Seward finished with 11 hits in the win while Southeast managed just 5 off of Lady Saints starter Alexa O'Brien. Brunson was a perfect 3 for 3 with 3 RBI's and 3 runs scored while Hamilton was 3 for 4 with 3 RBI's behind her. O'Brien improved to 11-6 on the year with a complete game, allowing the 5 hits and 2 runs while striking out 6.
SEWARD COUNTY/SOUTHEAST GAME ONE BOX SCORE<http://www.sewardsaints.com/sports/sball/2014-15/boxscores/20150328_19fl.xml>
Game two was more of the same unfortunately for the Lady Storm. The Lady Saints scored four times in the 1st inning this time, getting a two RBI single from Vanessa Oakden and a two out, two run double from Tiffanie Bolanos to open up an early 4-0 lead.
In the 3rd the Lady Saints worked some two out magic, putting together four straight hits including RBI singles from Mawhinney and Hannah Clark as well as an RBI double from Orr to stretch their lead to 7-0.
Jaclyn Wagner continued her dominance of the Southeast lineup in the 4th, striking out a pair while facing the minimum for the fourth straight inning.
Hamilton singled to start the 4th for the Lady Saints and she scored two batters later when Oakden unloaded on her sixth home run of the season to put Seward up 9-0.
That was all Wagner needed as she got three ground ball outs in the top half of the 5th to finish off her shutout and give the Lady Saints a 9-0 run rule win to sweep the doubleheader.
Wagner was masterful, allowing just 3 hits, all singles in her shutout. The sophomore struck out 6 and did not walk a batter as she improve to 12-5 on the year. The Lady Saints offense put together 13 hits in the victory, getting a 2 for 3, 4 RBI game from Oakden and a 3 for 3, 3 double performance from Bolanos.
SEWARD COUNTY/SOUTHEAST GAME TWO BOX SCORE<http://www.sewardsaints.com/sports/sball/2014-15/boxscores/20150328_k06j.xml>
The Lady Saints move to 23-13 on the year with the sweep, picking up their fifth and sixth straight wins. Southeast finishes their Spring Break trip 0-8 and falls to 10-24 on the season.
Next up for Seward is another home twinbill on Monday as they host Clarendon at 2:00 and 4:00 at Lady Saints Field.
Roy Allen