Seward Slams Conqs in Semifinals
Brock Kappelmann - November 4, 2022 7:53 pm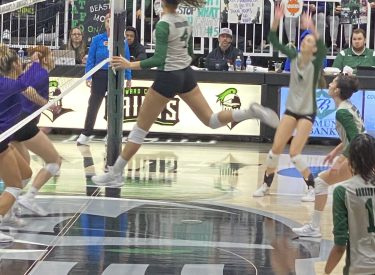 The Seward County Saints volleyball team won their Region 6 semifinal match over the Dodge City Conquistadors Friday night in the Green House.  Seward won 3-0 25-16, 25-17, 25-23.  Seward is 29-6 and will play  and Butler Saturday at 2 pm in the Green House.  Seward advances to the Region championship match for the eighth straight year.
Seyun Park led Seward County with 13 kills and a .600 hitting percentage, and Sarah Cruz added 11 kills with a .556 hitting percentage in the victory. Rafaela DaSilvahad 37 assists in the contest, and Logan Dodgeprovided three aces for the Lady Saints.   Here are details from SCCC about the match.
SEWARD COUNTY COMMUNITY COLLEGE INVITES THE PUBLIC TO JOIN US FOR A CARNIVAL BEFORE THE LADY SAINTS VOLLEYBALL TEAM PLAYS IN THE FINALS OF THE REGION SIX PLAYOFFS ON SATURDAY, NOVEMBER FIFTH. THERE WILL BE BOUNCY HOUSES, FACE PAINTING AND SNO CONES ALONG WITH A HAMBURGER AND HOT DOG FEED AT NOON. THE FESTIVITIES BEGIN AT ELEVEN THIRTY AM AND GAME TIME IS TWO PM. SEWARD FANS WILL GET A FREE T-SHIRT. WE'RE GOING TO BLACK OUT THE GREENHOUSE! COME OUT, HAVE SOME FUN, PACK THE GREENHOUSE AND ROOT ON THE LADY SAINTS TO VICTORY!