Seward Sends Sophomores Out in Style
KSCB News - October 28, 2010 12:00 am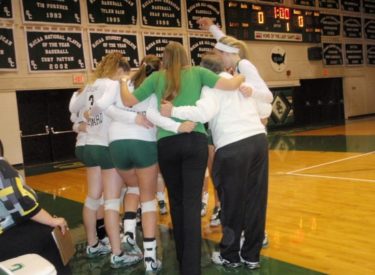 The Seward County Saints honored their three sophomores in fine fashion Wednesday night at the Green House. Seward beat rival Hutchinson (25-13, 25-22, 25-14) and clinched third place and a first round home match after Pratt beat Colby in Pratt last night. Seward will host that same Hutchinson (6-28, 5-9) team Tuesday night. Seward head coach Bert Luallen says that was a satifiying sophomore night.
"It's a culmination of their career here," Luallen said. "It's kind bittersweet. It's exciting to have the fans and have everything here but they know their time here is coming to an end. They want it to end on a good note. Winning on a note beating Hutchinson is always a good note."
Seward's three sophomores are 6′ (MH/RS) Stacie Carver of Holiday, Texas; Maddy Taylor (S) of Denton, Texas; and 5'10" Sheina Fernandes (MH) of Porto Alegre, Brazil.
Luallen celebrated his birthday Wednesday with two wins. A loss to Laramie County was ruled a win because they used an ineligible player so Seward is officially 19-16 overall and finishes 9-5 in the Jayhawk West.