Seward Rally Not Enough at Cowley
Brock Kappelmann - February 9, 2022 10:56 pm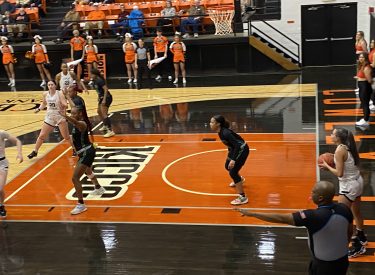 The Seward Lady Saints fell behind by 26 in the third quarter and could not climb back over the hump in an 85-74 loss at Cowley's Scott Auditorium Wednesday night.  Seward has dropped two straight games and sees their nine game winning streak against Cowley snapped.
Cowley jumped out to a 19-10 lead and led 19-12 after one quarter.  SCCC cut that lead to 24-22 but trailed 43-29 at the half.  The Lady Tigers led Seward 57-31 with five minutes to play in the third quarter.  Seward began their ascent late in the third quarter and cut the Cowley lead to 62-50 after three.  Seward trailed 67-62 with seven minutes to play and missed a lay up which would have snipped the lead to three.  Seward trailed 77-72 with 2:03 remaining.
Cowley blisted the nets for 49 percent shooting on the night and 60 percent in the fourth quarter.  Cowley won despite 24 turnovers.  Seward shot 32 percent.  Cowley was 28-35 at the foul line while SCCC was 19-27.
It's Seward's first loss to Cowley since 2016 after Seward had won nine in a row in the series.  Seward is 18-8 overall and 14-6 in the KJCCC.  Cowley is 15-9 overall and 11-8 in the Jayhawk.  Seward hosts Northwest Tech Saturday night at 6 with Saints Shootaround at 5:45 on 107.5 and the KSCB and The Legend App.