Seward Rallies Past Butler
Brock Kappelmann - March 16, 2021 6:32 am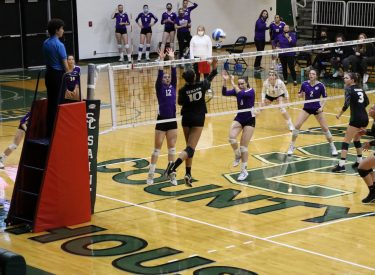 Kenny Hernandez
LIBERAL, Kan. – Seward County Community College volleyball team went down 2-0 to start the match but responded to win 3-2 over Butler Community College. The recently named No. 9 in the nation, Lady Saints had to come from behind after a 25-17 first set loss and a 28-26 second set defeat but responded with three-set wins 25-19, 25-18, and 25-11.
The Lady Saints jumped out to an early 8-4 advantage over the Grizzlies to start the first set. Butler responded with a 12-3 run to jump ahead 16-11 and take the momentum from Seward County. Down by five, the Lady Saints could not put together another run against the Grizzlies as they fell behind 1-0 in the match.
In the second set, the Grizzlies carried over their momentum and took a 12- 8 lead over the Lady Saints. Seward County took a time out to calm the nerves and looked to even up the match. The Lady Saints battled back to things up at 18 all and both teams traded off points. The Lady Saints were faced with match point 24-22 and rattled off 3 straight points to take a 25-24 advantage. The Grizzlies responded with a 4-1 run to gain a 2-0 set lead over the Lady Saints.
To prevent a sweep in the Greenhouse the Lady Saints had a 9-5 lead early but the Grizzlies once again came back to take an 11-10 lead. After a late 17-16 lead Seward County went on an 8-3 run to close out the third set and trailed Butler in the match 2-1. The fourth set started with both teams exchanging points and no lead exceeded two points for either team. Seward County and Butler were all noted up at 14 all when the Lady Saints put together a 6-2 run and had a 20-16 fourth set lead. This gave Seward County enough separation to force a fifth set.
With the energy in the gym shifted towards the Lady Saints they came out to a 6-3 lead in a 15 point fifth set. Seward did not trail in the fifth set and held on to pull off the come from behind victory 3-2.
The Lady Saints will take on Hutchinson Community College on Thursday, March 18th at 6:30 pm in Hutchinson, Kansas.