Seward Pummels Pratt
KSCB News - January 10, 2013 7:16 am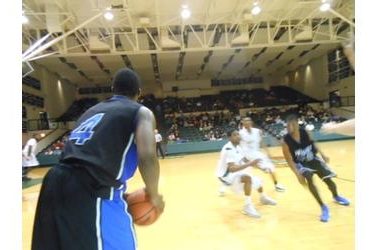 The shots just kept falling for Seward County Wednesday night in an 81-48 win over the Pratt Beavers in the Green House Wednesday night. The Saints made 12-20 three pointers and 8-12 in the first half. The Saints held Pratt to 32 percent shooting and forced 21 turnovers while the Saints only turned it over 11 times.
Kaheem Ransom scored 25 and Jabari Peters added 24 points with five assists. Malcolm Hill-Bey scored 13. Edson Avila grabbed 11 rebounds.
The Saints win their fifth straight against the Beavers and are 11-6 overall and 2-1 in the Jayhawk West. Pratt is 10-6 and 0-2 in the Jayhawk West. The Saints play at Cloud Saturday night at 8 p.m. on B107.5 and kscbnews.net. Seward beat Cloud 69-66 in overtime of the semifinals of last year's Region 6 Tournament.
D1#2 Hutchinson def Butler 81-67*
Garden City def D1#9 Barton 66-47*
Dodge City def Colby 70-66*