Seward Players Receive KJCCC Player and Pitcher of the Week
Brock Kappelmann - March 8, 2023 2:41 pm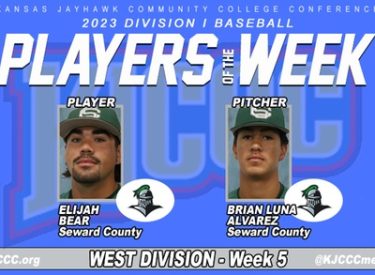 KJCCC West Player of the Week: Elijah Bear – Seward County Community College
Elijah Bear continues to excel in his DH role for the Saints and last weekend he batted .692 from the plate with 9 hits in 13 plate appearances. Bear tallied 12 RBIs, a double, and two home runs as Seward County improved to 9-11 on the year after a sweep over Redlands in a four-game series. Redlands walked Bear five times including three intentional walks so they could slow down the Saints' offense. Bear has a season batting average of .404, with 22 RBIs, and four home runs on the year.
KJCCC West Pitcher of the Week: Brian Luna Alvarez – Seward County Community College
Brian Luna Alvarez has started every series for the Saints from the mound and continues to provide Seward County with great starts to their series. Alvarez pitched all seven innings in game one versus Redlands last Friday with two hits, and zero earned runs in the shutout. He also had his first double-digit strikeout game with 10 strikeouts in the 8-0 victory. Alvarez is now 3-0 this season, has 29 strikeouts, and a 5.87 era. The Saints went on to sweep Redlands last weekend to improve to 9-11 on the year.
Other Player of the Week Nominations
Jaden Wiley – Barton Community College
Justin Hudson – Butler Community College
Ethan Hewell – Dodge City Community College
Christian Powell – Hutchinson Community College
Other Pitcher of the Week Nominations
Tegan Cain – Barton Community College
Izack Tiger – Butler Community College
Michael DeBattista – Dodge City Community College
Marcelo Aquire – Pratt Community College