Seward Picked Second in KJCCC Volleyball Race
Brock Kappelmann - August 18, 2016 6:42 am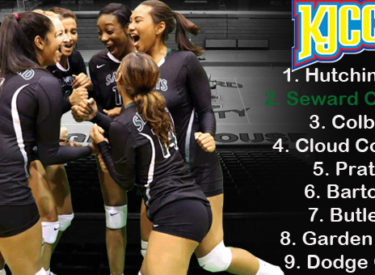 Coming off of a 26-15 season in which they finished as both Jayhawk Conference and Region VI runners-up, the Seward County Lady Saints Volleyball team has been picked second out of nine teams in the annual KJCCC Coaches Poll as released by the league on Wednesday.
Seward narrowly missed making 2015 a banner season, coming up one win short of a Jayhawk Conference Championship as well as seeing their season end in the Region VI Championship match against rival Hutchinson. The Lady Saints return four starters and six total sophomores to the fold in 2016, joining a talented group of eight freshman on their roster. Leading the way for Seward will be right side Maritza Mesa who averaged just over 2.00 kills per set a season ago as a rookie. Kimberly Diaz started 40 of 41 matches at libero a season ago for the Lady Saints, leading the team with 510 digs on the year. Belissa Guidotti led the Lady Saints at 0.83 blocks per set a season ago in the middle while Amanda Pereira dished out 577 assists and Kaysie Paxton put away 157 kills on the year.
The Lady Saints quest to one-up the coaches predictions will begin on August 26th in Roswell, New Mexico where they will open their 2016 season with a date against Cedar Valley in the New Mexico Military Classic. The Lady Saints return from Roswell just in time for a Jayhawk Conference opener on the road at Hutchinson before donning their home uniforms for the first time in the Greenhouse on September 2nd when they host Butler.
Hutchinson was picked by the coaches to repeat as conference champs once again while the Lady Saints were followed by Colby, Cloud County, and Pratt to round out the top five in the poll. Barton and Butler were picked 6th and 7th while Garden City and Dodge City finish out the predictions.
Fans will get their only chance in August to see the team in action in Liberal on Thursday when they host Oklahoma Panhandle State in a 6:30 scrimmage in the Greenhouse. Admission is free with live streaming video available courtesy of First National Bank in Liberal by CLICKING HERE<http://vcloud.volarvideo.com/volar/widget?id=134>.
Roy Allen