Seward Outlasts Dodge City on the Road
Brock Kappelmann - October 26, 2021 6:29 am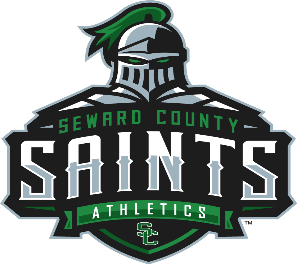 DODGE CITY, Kan. – Seward County Community College defeats Dodge City Community College 3-2 on Monday Night. The Lady Saints won the first set 25-23, lost the next two sets 20-25, 18-25, won the fourth set 25-22, and the fifth set 15-12. Seward county remains in 2nd place in the KJCCC with a 12-3 conference record and a 21-8 season record.
It was sophomore recognition night for the Conquistadors and dig pink night so the fans showed up and created a true home-court advantage. Dodge City came out and led 10-6 over Seward County in the first set. The Lady Saints took the lead for the first time in the match with a 17-16 advantage after a block by Brooke Katen and Berfin Mertcan. Head Coach Geno Frugoli calls a timeout with the score tied at 23 all and Seward County responded with two straight points to win the set 25-23.
Dodge City took a 13-9 lead in the second set and the Lady Saints looked to battle back for the second straight set. After a Katen kill Seward County took the lead 18-17 over the Conquistadors. Dodge City went on an 8-2 run to win the second set 25-20 and tied the match at a set apiece.
Similar to the first two sets Dodge City came out to a 12-8 lead over Seward County in the third set. The Lady Saints however could not climb back in the set and trailed 20-13 late in the third set. The Conquistadors took a 2-1 set score lead after a dominant 25-18 third set victory.
Seward County looked to force a fifth set and this time took an early set lead 12-10. Sarah Cruz had a huge block on the outside to give the Lady Saints a 17-12 lead that forced the Conquistadors to use a timeout. Dodge City went on a 6-0 run to get back within two points at 20-18. The Lady Saints won the fourth set 25-22 after a kill by Jessica Sales.
In the fifth set, the Lady Saints jumped out to an early 7-3 lead over the Conquistadors after a Cruz kills on an overpass. Seward County led 12-8 but Dodge City won two straight points to trail 12-10 and Head Coach Frugoli used a timeout. Dodge City scored after the timeout to trail by one but Seward County responded with a 3-1 run to win the fifth set 15-12.
Seward County will face No. 3 Butler Community College at 6 PM on Thursday night for Sophomore Night.