Seward Outlasts Dodge City in Five
Brock Kappelmann - September 23, 2021 12:29 pm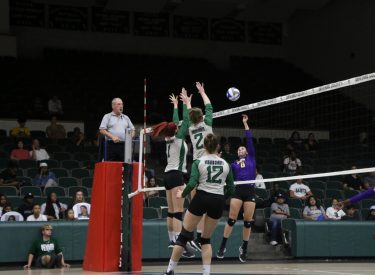 LIBERAL, Kan. – Seward County Community College volleyball program defeats Dodge City Community College 3-2 in the Greenhouse on Wednesday night. The Lady Saints had to come from behind as they lost the first set 23-25, won the second and third sets 29-27, 25-15, lost the fourth set 9-25, and won the fifth set 15-12. Seward County will look to continue their three-match winning streak on Saturday as they head to El Dorado, Kansas to face Butler Community College at 2 PM.
To start the match the Lady Saints trailed 10-8 but would take the lead after a kill by Sarah Cruz at 11-10. After trading off points Seward County trailed the Conquistadors 23-18 and won four straight points to get within one point 23-22. Dodge City closed out the first set winning two out of the last three points to win 25-23 and took a set lead over Seward county.
In the second set, the Lady Saints defense stepped up and took an early 8-6 lead as they looked to tie the match. Neither team had a lead larger than three points and after a hitting error by the Conquistadors the Lady Saints gained the lead 23-22. Dodge City had set point at 27-26 but Seyun Park got a kill to tie the match at 27 all. Sarah Cruz put the set away with a kill from the outside pin to give Seward County a second set win 29-27.
Seward County carried their momentum from their second set win into the third set as they jumped out to a 14-9 lead. Seward County traded off points and led 20-14 late in the third set. The Lady Saints won the third set 25-15 to gain a 2-1 match lead going into the fourth set.
During the first point of the fourth set, the match was stopped due to an injury timeout on the court. After the injury timeout, the Conquistadors jumped out to a 12-5 lead over the Lady Saints. Doge City went on an 11-2 run to take a 23-7 lead. Seward County fell in the fourth set by 25-9 and was the worst set loss of the season.
In the deciding fifth set both teams traded points and it was tied at five all. The Lady Saints went on a five to two run to lead 10-7 over the Conquistadors. Seward County kept the three-point advantage to win the fifth set 15-12 and won the match 3-2.
The Lady Saints are back in action on Saturday to take on No. 7 Butler Community College at 2 PM.