Seward Names Nelson Softball Assistant
Brock Kappelmann - August 20, 2018 2:54 pm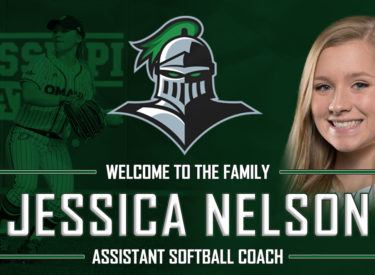 Ian Applegate
LIBERAL, Kan. – The Seward County softball staff is now complete after the recent addition of Jessica Nelson to the coaching staff. Nelson will join new Seward Head Coach Ryan Wondrasek in the Lady Saints dugout.
"I am extremely excited for Jessica Nelson to join me here at Seward County," said Wondrasek. "I had the pleasure of coaching Jessica at St. Gregory's and later at the University of Nebraska Omaha. She is one of the hardest working players I have had the good fortune of working with. She has a high softball IQ as a player and her passion for the game, along with her relentless work ethic, will be a tremendous benefit for our program. I am excited to see Jessica transition into a coaching role and what she is going to be able to bring to our program and the Seward family."
Nelson played her freshman, sophomore, and junior season at Saint Gregory's University. During her time at Saint Gregory's University, Nelson collected several accolades including a golden glove, 2nd team conference honors, and all region academic honors. Nelson holds records at Saint Gregory's University for most triples hit in a season and is ranked top five in most career triples. Nelson also nationally ranked within the NAIA her sophomore season for triples.
Upon the closing of Saint Gregory's University, Nelson committed to play her final season at the University of Nebraska Omaha, where she began working on her master's degree in Health Behaviors. Nelson was given to title of team captain at Omaha and was awarded all-tournament team in the Summit League conference tournament to wrap up her softball career.