Seward Makes Quick Work of Pratt
Brock Kappelmann - September 24, 2019 5:55 am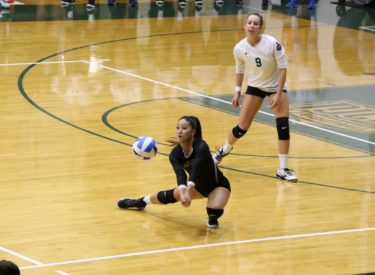 Kenny Hernandez
Liberal Kan. – With a three-game home stretch on the horizon for the recently re-ranked No. 4 Lady Saints it would start with a match up with Pratt Community College. The Lady Saints were 11-2 coming into the showdown and undefeated 6-0 in conference action. With the Beavers from Pratt coming into the match up 5-12 on the season and 2-4 in conference play the Beavers were eager to jump out early against the Lady Saints.
The first set would be a true battle for the first 20 points as the Lady Saints would lead it 12-10. The Beavers seemed to have an answer early on for the power and athleticism that the Lady Saints provide on the court. But that is as close as the Beavers would get in the first set with the Lady Saints winning 13 of the next 17 points to take the first set 25-14. The freshman Yanlis Feliz would lead the team in kills with 5 and 1 solo block. The sophomore Djuly Schmorantz would be right there with her having 4 kills of her own.
Entering the second set you could tell the Lady Saints came out with urgency and determination, jumping up to an early 12-2 lead. This is were the momentum of the Lady Saints would start to build and being in the Greenhouse in front of the Saints faithful just added to the atmosphere. Set on cruise control the Lady Saints would prevail in the second set 25-7. Sophomore Setter Laura De Pra would get a team high 4 aces all in the second set. Leading in kills for the set was freshman Ariana Arciniega with 4 kills in the second set.
For the final set the Lady Saints would continue their dominance as they would jump up to another early lead 13-4. With some late substitutions the Lady Saints would continue to grow their lead with their depth from the bench. In the final set the Lady Saints would win 25-13 and and take the match 3-0. Djuly Schmorantz would lead the third set in kills with 5, Yanlis Feliz would add 4 of her own.
Getting the victory, the No. 4 Lady Saints are now 12-2 on the season and 6-0 in Conference play. As they extend their home winning streak to 37 and their regular season wins against conference opponents to 45 straight matches. This Wednesday the Lady Saints will host Colby Community College who is currently13-1 and 6-0 in conference. It will be a battle for the number one spot in the Jayhawk west conference, the match will start on Wednesday at 6:30pm CT in the Greenhouse.