Seward Loses Battle on the Boards at Hutchinson
Brock Kappelmann - March 21, 2021 8:50 am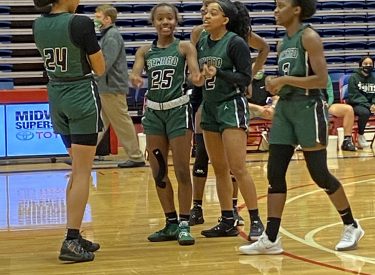 The Hutchinson Lady Dragons swept the season series with Seward with a 78-76 win over the Lady Saints Saturday evening in the Hutchinson Sports Arena.  The difference was again rebounding.  In key games this season, Seward has been bullied on the boards.  The have been out rebounded 73-29 against Butler, 51-39 against Hutch in the first meeting, 54-29 against Barton, and Saturday they were out rebounded 43-30.  Hutch out scored SCCC 23-13 in second chance points.
Seward played very well early jumping out to leads of 21-9 and 26-11.  Seward led 26-17 after one quarter.  Seward led 34-21 in the second quarter and led 37-26 at the half.  Seward took an early second half lead of 42-32.  From there, it was all Hutchinson.  Hutch got to 45-41, 47-43, 50-47, and it was 52-49 Seward after three.  The Lady Dragons cut the lead to one at 52-51 and tied the game at 54-54 with 8:30 to play.  Seward took a 71-69 lead.  Hutch took a 75-73 lead with 50.1 seconds left.
Seward shot 48 percent from the field and made 10-31 three pointers and were 6-7 at the foul line.  Hutchinson shot 43 percent from the field, made 5-17 three pointers, and were 19-25 from the foul line.
Sierra Morrow had 22 points and seven rebounds.  Sierra Lynch had 18 points and seven assists.  Madina Camara had 14.
Seward is 12-5 and Hutch is 14-3 in the Jayhawk West.  Seward falls back into third and hosts second place Barton Monday night at 6 in the Green House.  Saints Shoot-around at 5:45 on B107.5 and kscbnews.net.