Seward Looks to North Texas for Volleyball Coach
Brock Kappelmann - August 31, 2020 10:36 am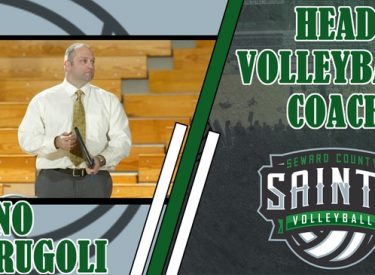 LIBERAL, Kan.- Seward County Community College is honored to welcome Gino Frugoli as the ninth head coach of the Lady Saints Volleyball program. Frugoli, a Las Vegas native, was previously at the University of North Texas where he spent two seasons as the associate head coach. At North Texas, they finished 3rd in Conference USA last year with a National RPI of 44.
Frugoli has 15-years of collegiate coaching experience with over 9 years at the NCAA Division 1 level.  Frugoli got his start at the college level as the Head Coach at Dakota Wesleyan in Mitchell, South Dakota. He first got into NCAA Division 1 as an assistant at Baylor University in the Big XII.  From there he was named the Head Coach at the University of Missouri-Kansas City in the Summit League. After four seasons at UMKC, he moved to Southeastern Lousiana University in the Southland Conference.
While apart of Baylor University, Frugoli served as the main recruiter for three seasons. During his time, he brought in seven players that were named in the top-150 and brought in the number one recruit in Texas. The Bears' 2006 class received national acclaim, as it was tabbed the No. 16 ranked class in the country.
Prior to making the jump to the NCAA level, Frugoli coached at Nebraska at Peru State College where he not only served as the women's coach but also started a Men's program, being ranked #7 in the nation.  At Dakota Wesley University he took a team that was 2-29 to a .500 record.
He also keeps academics as a high priority, with three teams earning the AVCA Academic Team Award for having at least a 3.30 cumulative team GPA. While at UMKC a total of 32 student-athletes were named to The Summit League Academic All-League team and 14 were selected to the Commissioner's List of Academic Excellence.
Frugoli comes to Seward County ready to get on campus and start working with the team. The season starts on January 24, 2021, at Barton Community College and the Lady Saints look to continue their excellence.
For more information on Seward Saints Volleyball contact the Volleyball office at 620-417-1564 or contact the Athletics Office at 620-417-1550