Seward Lefty Keeps it in the SCCC Family
KSCB News - November 22, 2010 12:00 am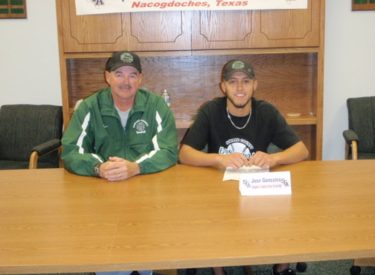 Seward lefty Jose Gonzalez signed Monday to play baseball at Stephen F. Austin in Nacogdoches, Texas. Former Saint Johnny Cardenas is the head coach entering his third year. He led the Lumberjacks to their second appearance in the Southland Conference Tournament last year. Cardenas played for Galen McSpadden at Seward in 1989 and 1990. The all Jayhawk West player went to TCU before a pro career which landed him in the Rangers organization where he made it to the big club.
Gonzalez is a 6'1″ left hand from Dumas who was 3-4 for the Saints as a freshman. He had a 5.78 ERA and 45 strikeouts to go along with 36 strikeouts and in 63 innings pitched. McSpadden describes Gonzalez as a lefty with a live arm and was throwing from about 88 to 91 miles per hour this fall.
An interview with Gonzalez and McSpadden will air Tuesday morning during the Sportsguys on Talkradio 1270 and kscbnews.net. The show airs weekday mornings between 7:37 and 9 a.m.