Seward Holds On in Colby
KSCB News - February 9, 2012 7:20 am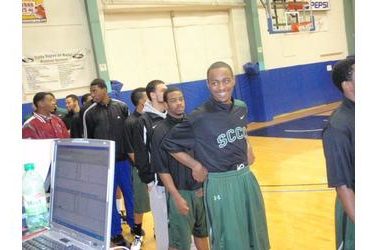 The Seward County Saints make it another season sweep. After sweeping Barton for the season on Saturday, the Saints sweep Colby Wednesday night 74-69 at the Colby Community Building. The Saints have a two game lead now over the Trojans and maintain a one game lead over second place Barton.
The Saints forced 27 Colby turnovers and won despite committing 21 turnovers. Seward shot 40 percent while the Trojans shot 47 percent. Colby was 9-19 from three point range for 47 percent. Colby's Carson Konrade was 6-7 from three point range and scored 24 in the loss.
Seward led 36-35 in the first half despite Colby's 8-14 three point shooting. The Saints led by 16 (67-51 before Colby desparately went on a 16-2 run to cut Seward's lead to one in front of a raucous crowd in Colby.
Deverell Biggs made key free throws down the stretch and scored 18 with 7-8 shooting at the foul line. Irvin Hollinger scored 16 and Kaheem Ransom scored 15. Edson Avila scored seven but pulled down 11 rebounds.
The Saints are 20-4 and 8-2 in the Jayhawk West while the Trojans fall to 18-6 overall and 6-4 in the Jayhawk West.
Seward hosts Pratt for homecoming Saturday night at 8 p.m. on B107.5 and kscbnews.net. Pizza Hut is the buyout sponsor.
Thursday night, coach Bryan Zollinger and several Saints will be guests for the Green Line at 6 p.m. on Talkradio 1270 and kscbnews.net.
Wed. Feb. 8
Johnson County def Kansas City KS 81-77 OT*
Independence def Highland 82-77*
Hutchinson def Garden City 71-64*
Cloud County def Pratt 79-57*
#15 Seward County def Colby 74-69*
Neosho County def Cowley 73-70*
Allen def Fort Scott 80-66*
#13 Barton def Dodge City 83-81*
#7 Coffeyville def Labette 69-66*