Seward Hits Six Straight Homers in Sweep at DC3
Brock Kappelmann - April 2, 2021 12:00 pm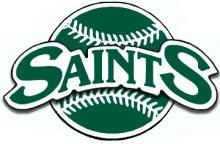 The Seward County Saints hit six consecutive homers on their way to a sweep of a marathon double header at Dodge City on Thursday night.  Seward won 17-5 and 28-24 over the Dodge City Conquistadors at Cavalier Field.
In game one, Seward won in five innings due to run rule.  The Saints scored two in the first and two in the third to lead 4-1 after three.  The Saints plated three in the fourth before the Conqs scored three in the fourth.  Seward erupted for a 10 run fifth to win in a run rule.  KP Werner and Wyatt Grant homered.  Grant, Kase Johnson, and Peter Goldy had three hits a piece.  Goldy had four RBI's.  Sam Berberich went all five innings with six strikeouts and one walk for the win.
The Saints won an unthinkable 28-24 game in game two.  Seward hits eight home runs and the Conqs hit four.  There were 32 walks as DC3 walked 23.  There were 42 hits.  The Saints hit six consecutive home runs in the fourth.  Wyatt Grant, Braden Boisvert, Richard Armijo, Peter Goldy, George Gallardo, and Landon Anderson hit six homers in six at bats in an 11 run fourth.  Wyatt Grant had three homers in the game and four on the day.  Seward led 15-5 after four and 18-6 after five.  Dodge City scored four in the sixth to make it 18-12.  Seward led 20-12 at seventh inning stretch time before the Conquistadors scored four in the seventh, one in the eighth, and three in the ninth to send the game to extra innings.  Both teams scored one in the 10th before Seward scored seven in the 11th.  There were 109 at bats in the game.
The Saints have won six straight and are 12-14 overall and 8-6 in the Jayhawk West.  Dodge City is 13-10 overall and 2-8 in the Jayhawk West.  Seward hosts Dodge City Saturday at 1 at Brent Gould Field with Saints Dugout Show at 12:45 on 1270 and kscbnews.net.