Seward Hires SID and Assistant Athletic Director
Brock Kappelmann - August 14, 2019 2:22 pm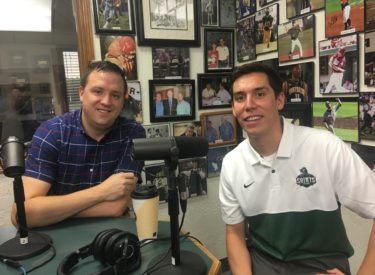 Seward has their fourth full time sports information director.  Kenny G Hernandez comes to Seward replacing Ian Applegate who departed last winter for division 1 Texas-Arlington.  Hernandez will also be assistant athletic director.  Hernandez joins Scott Lacefield, Roy Allen, and Ian Applegate at Seward's SID's.  Here is his bio from sewardsaints.com.
Kenny Hernandez is entering his first year as the Assistant Athletic Director for Communications at Seward County Community College. He has been involved with NJCAA athletics for the last 3 years as the Voice of the Tetons at Williston State College. Being involved with the Men's and Women's basketball teams Kenny learned the importance of creating a clear message and keeping the community up to date. Bring the community his passion for Junior College athletics has been his strong suit.
While in college Kenny played collegiate Basketball at Minnesota West Community College in Worthington Minnesota during the 2011-12 season. The team finished 12-20 on the year and missed post season play. Later he would graduate from Iowa State University in 2015 with a Bachelor's Degree in Communication Studies, a Minor in English and a Certificate of Leadership and Public Service.
After college he was a part of multiple radio stations including WCCO, KDWB, and Jack FM. Being in the radio industry he was able to create his own voice. As he joins the Saints this Fall, he will be looking forward to joining the community of Liberal Kansas and to be a part of the Saints Athletic Department.