Seward Hires Athletic Coordinator of Operations and Eligibility
Brock Kappelmann - June 21, 2022 9:15 am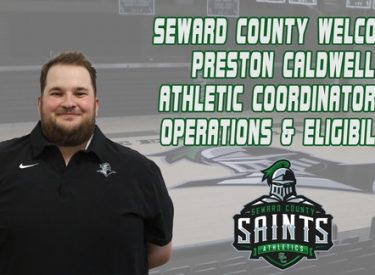 LIBERAL, Kan. – Seward County Community College welcomes Preston Caldwell to the Saints team as the Athletic Coordinator of Operations and Eligibility. Caldwell was born in Baton Rouge, Louisiana, and joins the Seward County Athletic Department after working for the University of Arkansas in Event Services.
Caldwell is ready to start his administrative position, "I am excited to get my hands in a lot of baskets, and learn the everyday grind of college athletics." He is a recent graduate from the University of Arkansas with a master's degree in recreation and sports management and graduated in 2019 from the Louisiana State University (LSU) with a bachelor's degree in sports administration.
Caldwell's first experience in college athletics was during his freshman year at the University of West Florida where he was a student intern for the football program from 2014-15. He was able to learn behind the scenes of an athletic department as he worked with documentation and compliance.
Also, a former student at Baton Rouge Community College Coldwell knows firsthand the community college routine as a student and is a valuable asset to understanding the college experience that our student-athletes are in.
When asked what he is excited about he stated, "I am excited to see Seward grow, win games, and win championships."
We welcome Preston Caldwell to the Seward County community, to Liberal, Kansas, and to Saints Nation.