Seward Handles Garden City
Brock Kappelmann - October 7, 2021 6:32 am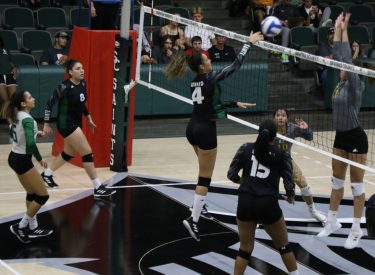 Kenny Hernadez
LIBERAL, Kan. – Seward County Community College defeats Gardens City 3-0 in the Greenhouse on Monday night. The Lady Saints defeated the Broncbusters with set scores 25-17, 25-19, and 25-21 improves to 15-4 overall and 8-2 in conference play. Seward County will be on the road at Hutchinson Community College on Wednesday for another KJCCC match.
To start the match both teams traded off points and the match was tied at 9-9 in the first set. The Lady Saints found their groove and went on a 10-3 run to lead 19-12 over the Broncbusters. Seward County kept Garden City at arm's length and ended the set on a 5-2 run to claim the set 25-17.
In the second set the Broncbusters jumped out to lead 12-9 over the Lady Saints. after a timeout by Seward's Head Coach Geno Frugoli the Lady Saints were able to battle back to tie it up at 18 all late in the second set. Seward County closed out the set on a 7-1 run to win the set 25-19 to lead the match 2-0.
For the final set, the Broncbusters came out with an 11-5 lead and continued to separate themselves from the Lady Saints. Seward County found themselves down 18-12 and needed to come back in the third set to win the match. The Lady Saints went on a 7-1 run once again to tie the match at 19 all and the Lady Saints closed out the match on a 6-2 run to win the third set 25-21.
The Lady Saints will be back in action on Wednesday night at Hutchinson with the match set to start at 6 PM.