Seward Guard Named NJCAA Player of the Week
KSCB News - November 29, 2011 6:35 am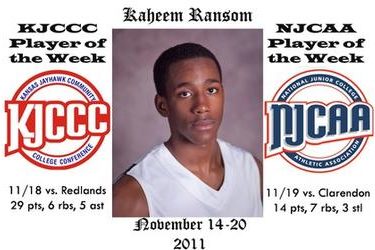 For the second straight week, Seward County guard Kaheem
Ransom has been named the KJCCC Player of the Week. However, this time
Saints freshman picked up an even more lofty award to go with it as he
was also picked as the NJCAA National Player of the Week, marking the
first time a Seward player has won the award since 2007 when Theron
Wilson won the award.
Ransom was the spark plug once again for Seward in a
2-0 weekend last week. Friday against Redlands he lit it up for 24
first half points and finished with 29 to go along with 6 rebounds, 5
assists, and just 1 turnover. Saturday he had 14 points and 7 rebounds
in a 93-61 Seward win. He finished the week averaging 21.5 points and
6.5 rebounds per game while shooting 53% from the field and 55% from the
three point line.