Seward Finishes Strongly in Win Over Dodge City
Brock Kappelmann - February 11, 2020 6:39 am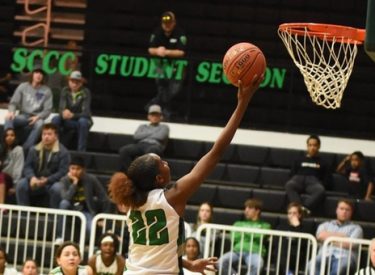 Kenny Hernandez
LIBERAL, Kan. – The 19th-ranked Seward County Community College women's basketball team used a strong second-half to beat Dodge City Community College, 74-61, on Monday at the Greenhouse. The Lady Saints improved to 20-5 overall and 15-2 in the Jayhawk West, second to Hutchinson.
Destiny Alston had a career-high 19 points along with a team-high eight rebound and Vanda Cuamba chipped in with 18 points and five rebounds to pace the Lady Saints, who bounced back from a loss at Pratt Community College on Saturday. Leilani Augmon also added 11 points for Seward, which was 42.2 percent from the field on 27-of-64 shooting, but committed 21 turnovers.
Seward could not shake Dodge City in the first half of play and only held a 27-24 lead at the break. The teams battled back and forth in the third quarter with the Conquistadors taking a 31-30 lead on a Faith Cattouse field goal with 6:28 left in the third. That was Dodge City's last lead of the game.
The Lady Saints went used a 7-0 run, powered by Cuamba's three-point play, an Alston layup and a bucket by Aquila Mucubaquire, to take a 37-31 advantage at the 5:34 mark of the quarter.
Dodge City shaved the lead down to a point, 38-37, with just over two minutes remaining, but Alston nailed a three-pointer to help Seward open a four-point margin and used that momentum to grow its lead to 10 points, 50-40, after three quarters. The Lady Saints led by as many as 15 in the final quarter en route to the victory.
Seward jumped out to a 9-2 lead to start the game, but Dodge City battled back and only trailed by two, 11-9, after one quarter. The Conquistadors led for a good part of the second quarter before the Lady Saints scored the final four points to take a halftime lead.
Fredrionna Adams had 19 points to lead Dodge City, which fell to 14-12 overall and 9-8 in the Jayhawk West.
The Lady Saints take to the road and play at Colby Community College at 5:30 p.m. on Wednesday with Saints Shoot-around at 5:15 on B107.5 and kscbnews.net.