Seward Falls to Gulf Coast
Brock Kappelmann - November 14, 2021 8:19 am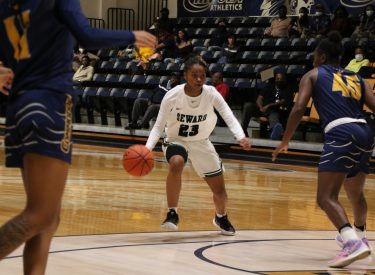 Kenny Hernandez
MARIANNA, Flo. – Seward County Community College falls to Gulf Coast College 94-39 in their final game of the World Exposure Report Invitational. The Lady Saints trailed 23-9 after the first quarter and Seward County could not get back into the game. Seward County will be back in the Greenhouse on Wednesday, November 17th for their first conference game against Pratt Community College.
To start the game, Gulf Coast went on a 19-2 run and never looked back. The Lady Saints could not get their offense established as their shooting struggles continued. Gulf Coast led 23-9 after the first quarter.
Gulf Coast came out with a 19-3 run in the first five minutes of the second quarter to lead 42-19. At the break, Seward County found themselves down 50-18 as Seward County only scored nine points in each of the first two quarters.
In the third quarter, Gulf Coast extended its lead to 44 points with a 68-24 lead. The Commodores continued to extend their lead with a 74-28 advantage after the 3rd quarter.
Seward County continued to struggle on the offensive side in the fourth quarter with Gulf Coast ahead 79-36. D'Arrah Allen connected on a three from the right wing with 5:03 left in the game and that would be the final basket for the Lady Saints. Gulf Coast closed the game on a 15-0 run to win the game 94-39.
The Lady Saints will look to put this game behind them as the Pratt Beavers will be in the Greenhouse on Wednesday for the conference opener.