Seward Extends Jayhawk Streak to 21
Brock Kappelmann - October 12, 2017 6:24 am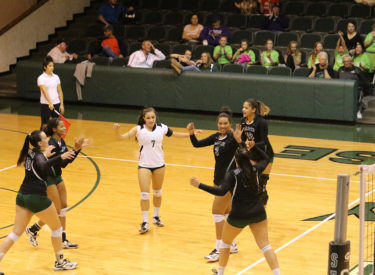 LIBERAL, Kan. – The No. 5 Seward County volleyball team continued their winning ways Wednesday night, defeating the Cloud County Thunderbirds 3-0 (25-19, 25-16, 25-9) in their first match inside the Greenhouse in three weeks. The win improved the Lady Saints Jayhawk winning streak to 21 matches.
The Lady Saints (26-1, 11-0) started the night slow, going down 4-10 to start the first set. The T-Bird lead quickly diminished, however, as the Lady Saints went on a 12-0 run to take a six-point lead. Mariana Nascimento accounted for half the points during the run, four coming from kills and two from blocks. The lead remained the same for the rest of the set, with Seward winning 25-19.
Seward wasted no time in the second set to take a lead, jumping out 8-2 through the first ten points, as Luz Sierra, Giovanna Tapigliani and Nascimento each accounted for two points apiece. The Lady Saints continued to stretch their lead with another 8-2 run capped with a Nascimento kill to make it 16-4. The lead proved to be too much to overcome with Seward going on to win the set 25-16.
The Lady Saints faced little resistance in the third set. Winning 6-4, Sierra rattled off three straight service aces to put Seward up five. The remainder of the set saw the Lady Saints go on two large runs before finishing the T-Birds. The first was a 5-1 run starting with a Nascimento kill, before an attacking error ended it. The Lady Saints quickly rebounded from that error and went on an 8-0 starting with a Tapigliani kill. Up 22-9, two straight Tapigliani kills followed by a Sierra killed gave Seward the victory, 25-9.
The win marked the 23rd straight victory over Cloud County for the Lady Saints. This was the most efficient match for Seward, hitting a season high .434, including a second set where they hit. 714. Tapigliani led the Lady Saints, hitting .632 with 12 kills. Nascimento finished hitting an even .500 with 9 kills of her own.
Following two of their lowest blocking performances of the year, the Lady Saints came away with 9 blocks in the match, led by five from Nascimento. Briana Domino kept the ball alive on the defensive end, leading the Lady Saints with 7 digs.
Seward will be back in action on Saturday, when they host Pratt at 6:30 p.m. inside the Greenhouse.
[cid:image002.png@01D342D3.5B2D6270]
Ian Applegate