Seward Drops Two of Three at Cowley
Brock Kappelmann - April 19, 2021 6:37 am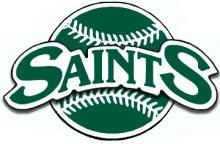 It used to be that when Seward played Cowley in baseball, it was the "beasts of the east" against the "best from the west."  And even though both teams are in second place in their divisions, some of those memories were rekindled Saturday and Sunday during a competitive series in Ark City.  Cowley won the competitive series 2-1 winning 10-2 in game on Saturday and 2-0 on Sunday.  The Saints won game two Saturday 6-0.
In game on Saturday, #11 Cowley scored two in the first and three in the second and led 7-1 after four.  Seward only had four hits in the loss.  Sam Berberich pitched five innings for Seward.
Seward won the second game 6-0.  The Saints scored five in the first and one in the fourth.  Peter Goldy, Wyatt Grant, and Jonathan Cantu drove home two runs a piece.  AJ Folds had two hits.  Dylan Day pitched six shutout innings for Seward with seven strikeouts.  Cory Didier pitched three scoreless innings with five strikeouts.
The rubber game of the series was a frustrating one Sunday afternoon in Ark City.  Seward out hit the Tigers 8-7 but lost the game.  Cowley scored in the second and the sixth.  Mason Martinez pitched six strong innings with four strikeouts.  Eric Turner scored two scoreless innings for the Saints.  George Gallardo had two hits.
The Saints fall to 18-18 overall.  The games were non league games.  Seward hosts Clarendon Tuesday at 3.