Seward Drops the Hammer on Highland
KSCB News - May 4, 2015 7:13 am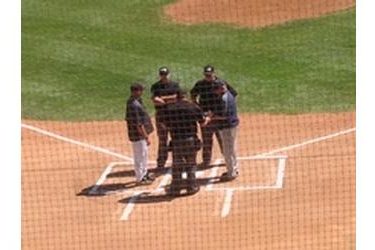 It wasn't easy. Especially when trailing 5-1 in the middle of the fourth inning after allowing five runs and seven hits the first two innings and mustering just one run on two hits in the first three innings. But Seward responded to win 18-7 in a run rule to advance to Wichita.
Highland came out swinging with two runs on four hits in the first and three runs on three hits in the second against Seward starter Brent Bezio. Seward scored one in the first when Brandon Urquizo tripled and Brandon Rix hit a sac fly to left. So Seward trailed 5-1 going to the bottom of the fourth and you could cut the tension in Brent Gould Field with a knife. But Seward scored seven in the fourth. Dillon Drury hit a towering two run homer to left center with no wind to make it 5-3. Josh Nicol grounded a single to left to make it 5-4 Scotties. Alex White lined a grand slam to left to make it 8-5 Saints. It's White's fourth homer of the season. Highland plated one in the fifth to make it 8-6 and Chad Kennedy grounded out to third but drove home a run to make it 9-6. Seward scored two runs with two outs in the sixth to lead 11-6 after Logan Nethercot and Tony Dorado provided RBI singles. Justin Graff-Rowe singled home a run in the seventh and Seward scored another two out run whe Nethercot singled home another run to make it 13-6. In the bottom of the eighth Brandon Rix singled home a run and Justin Graff-Rowe doubled home a run to make it 15-7. Drury lined a home run over the center field wall for his ninth of the season. That made the score 18-7 and ended the game in the eighth. Jakob Hernandez pitched 4.6 innings allowing one run and 10 strikeouts before Grant Glaze pitched 1.3 innings to close it out.
Seward is 34-23 and Highland is 15-38. Seward plays Coffeyville Friday morning at 10 a.m. at Lawrence-Dumont Stadium in Wichita on 1270 and kscbnews.net.