Seward Drops First Round to Hutchinson
Brock Kappelmann - May 8, 2021 6:54 am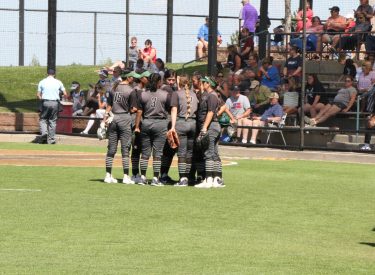 Kenny Hernandez
DODGE CITY, Kan. – Seward County Community College loses a heart breaker 3-2 against Hutchinson Community College in the first round of the Region VI tournament. The Saints led 2-1 in the bottom of the seventh inning and the Blue Dragons went on to hit a home run, followed by a double, and a walk-off single to win the game. Seward County will compete in the losers bracket and will have to win out to win the Region.
To start the game both teams were held scoreless through the second inning. The Saints took the lead and scored first off of a solo home run by AJ Luna in the top of the third inning. Melissa Crisanti followed up with a single but got stranded on base but Seward led 1-0 after the third.
In the bottom of the fourth inning, the Blue Dragons tied the game at one all after a fielder's choice scored the base runner from third base. The defensive clinic continued with both teams going scoreless in the fifth inning. Seward County took the lead in the top of the sixth with Jaci Oakley connected on a triple that scored Jacie Scott from second base.
The Saints were three outs away from a Region tournament win but the Blue Dragons brought out the bats in the bottom of the seventh inning. Hutchinson started the inning with a solo home run to tie the game at two all. They followed up with a double and the next batter hit a double to score the runner from second base and to win the game 3-2.
Seward County had Alyssah Pontoja pitch all seven innings and gave up nine hits, three runs, and struck out five
The Saints will be in action tomorrow morning at 9 AM to take on the Cougars.