Seward Doubles Partners Sign
Brock Kappelmann - April 13, 2017 6:47 am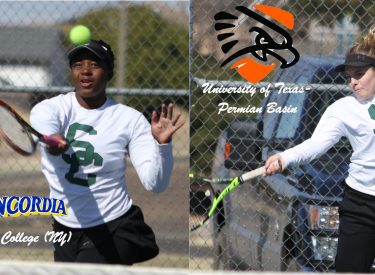 2016 NJCAA Region VI Champion doubles partners Tadi Mrewa and Madison Hoelting signed to continue their playing careers on Wednesday as Mrewa is headed to New York to play at Concordia College while Hoelting will return to her home state to play at the University of Texas-Permian Basin next season.
Mrewa will make the long trek across the country to New York where she will play at NCAA Division II member Concordia College. Mrewa has been a stalwart in the Lady Saints lineup over the past two seasons, racking up 65 total wins which puts her in the top 5 in school history in the wins column. This season, Mrewa has put together a 9-8 record across five singles lines and a 13-5 record across the three doubles lines. A year ago Mrewa was the Region VI Champion at both #6 singles and #3 doubles with Hoelting and finished 3rd at the NJCAA National Tournament in both spots. She will play for a Clippers squad that reached the Division II Sweet 16 in 2016 before forgoing the 2017 season. The program will respawn this fall with high hopes once again. Asked about what she would miss about Seward, Mrewa said with a smile "I will miss how accepting my teammates were of my dancing and singing in practice, class, and across campus. They accepted my weirdness and had fun with me."
Hoelting travels back down South to the Lone Star State where she will play at NCAA Division II University of Texas-Permian Basin. Hoelting has also racked up the wins while playing for the green and white the past two seasons, winning 59 combined matches between singles and doubles the past two years. She is 8-0 across three lines of singles play this Spring and has gone 13-5 with Mrewa in doubles. Last season she and Mrewa captured the Region VI Championship at #3 doubles while finishing 3rd at the NJCAA National Tournament. UTPB is currently 6-10 this season after winning their past two matches in 9-0 sweeps. Hoelting said about playing for the Falcons next season "I am excited to get back to the great state of Texas and be closer to my family where they can watch me play the next two years. I like the coaches and the program at UTPB and it is very competitive down there."
Mrewa, Hoelting, and the rest of the Lady Saints will continue action this weekend in Plano, Texas where they will compete in the Southwest Juco Championships before gearing up for the Region VI Tournament next weekend in Great Bend.
Roy Allen