Seward Dominates on Dig Pink Night
Brock Kappelmann - October 21, 2021 1:32 pm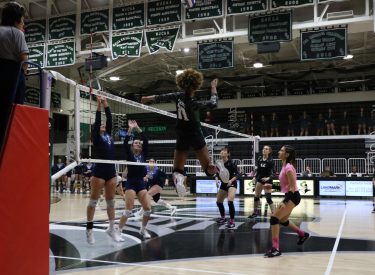 Kenny Hernandez
LIBERAL, Kan. – Seward County Community College defeated Colby Community College in straight sets on Dig Pink Night to improve to 19-5 on the season and 11-3 in conference play. The Lady Saints won with set scores 25-17, 25-11, and 25-19 to claim the home victory. Seward County will hit the road to compete at Jefferson College in Hillsborough, Missouri to take on two top 10 teams in the nation.
To start the match the Lady Saints looked in control and took an early 6-2 lead over Colby after a hitting error on the Trojans. The Lady Saints went up 11-9 and went on an 8-3 run to lead 19-12 over the Trojans after a kill by Gabriela Badilla. Seward County won the first set 25-17 with a final kill by Berfin Mertcan.
Seward County opened up the second set with a 9-1 lead and never looked back. The Lady Saints went on an 11-4 run to take a commanding 20-5 lead in the second set. A block by Seyun Park gave the Lady Saints a 25-11 second set victory to lead the match 2-0.
The Lady Saints and the Trojans started the second set trading off points and were all tied at six all. After a kill for the Trojans, the match was all tied at 16 all. Laura Almeida served an ace on set point to cap off a 9-3 run for Seward county to win the final set 25-19 over Colby.
Seward County was led by Sarah Cruz with 15 kills and a .462 hitting percentage. Seyun Park added 10 kills with a .625 hitting percentage, and Berfin Mertcan had 39 assists to help the Lady Saints defeat the Trojans.
Seward County will compete against Illinois Central College on Friday at noon followed by Missouri State-West Plains at 4 PM at Jefferson College.