Seward Defense Too Much for Cloud
KSCB News - February 12, 2013 5:57 am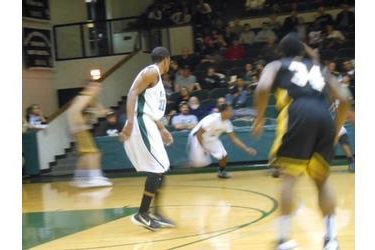 Seward may have played their best defensive game Monday night in the Green House. The Saints smothered Cloud 68-39 holding Cloud to 14 field goals and 30 percent shooting while harrassing the Thunderbirds into 22 turnovers.
Seward led 36-17 at halftime in route to their eighth win in their last 10 tries against Cloud. Kaheem Ransom led the Saints again with 16 points all in the first half. He was 4-6 from three point range. Malcolm Hill-Bey added 10.
The Saints are 19-7 overall and 10-2 in the Jayhawk West just a half game behind first place Hutchinson and now two games in front of 8-4 third place Barton. The Saints play at Dodge City in the new United Wireless Center for the first time Saturday night at 8 on B107.5 and kscbnews.net.
Butler def D1#25 Barton 61-57*
Colby def Garden City 64-57*
Pratt def Dodge City 69-65*
D1RV Seward County def Cloud County 68-39*