Seward Defense Falters in Loss at Pratt
Brock Kappelmann - January 18, 2022 7:21 am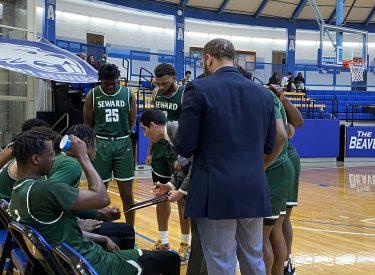 The Seward County Saints watched the Pratt Beavers hit 50 percent of their shots as Pratt beat the Saints 81-73 Monday night in the Beaver Dome.  Pratt shot 60 percent in the second half of the win.
Seward jumped out to an early 15-7 lead.  Pratt rallied to lead 26-21 and led 37-35 at halftime.  The Beavers began the second half on an 8-0 run to lead 45-35.  Seward rallied to within one at 53-52 before the Beaver reeled in a 6-0 run toe lead 59-52.  The Saints trailed by five 61-56 with 7:03 to play.  Pratt led 76-61 before SCCC pulled closer to finish the game.
While Pratt shot 5o percent from the field, SCCC shot 41 percent.  Pratt was 17-27 from the foul line and the Saints were 11-13.  Pratt out rebounded Seward 39-30.  Will Dubinsky led the Saints with 19 points while Bee McCrary scored 14 points.  Taye Donald had 11.  KD Arnett and Harvin Ibarquen had 10 a piece.  Ibarquen had eight rebounds.
Seward is 0-4 since the calendar turned to 2022 and has lost five of the past six.  Seward is 7-11 overall and 4-8 in the Jayhawk while Pratt broke a four game losing streak and improves to 10-9 overall and 5-8 in the Jayhawk.
Seward hosts Butler Wednesday night at 8 on B107.5 and KSCB and The Legend App.  Bank of Beaver City is the game sponsor.