Seward County Saints Announce 2023 Hall of Fame
Joe Denoyer - January 30, 2023 11:15 am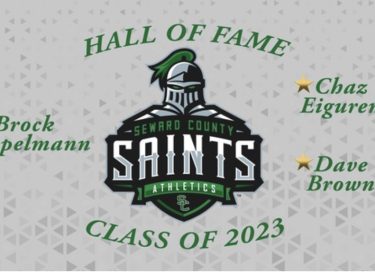 LIBERAL, Kan. – Seward County Community College will induct the 2023 Saints Hall of Fame members on February 11th and will be recognized in between the basketball games. Seward County will recognize hall of fame men's basketball coach Dave Brown (1996-2007), baseball standout Chaz Eiguren (1995-97), and the voice of the Saints, Brock Kappelmann (1998-Present).
The Hall of Fame will coincide with homecoming week and will be celebrated all week up until the ceremony on Saturday, February 11th. These three historical Hall of Famers have been a key part of Seward County's athletic success and promotion throughout the years, and we are honored to have them return to campus and honor their success.
On Thursday, February 19th, there will be an alumni panel at 7 p.m. in the Theater open to the public. The next day the Saints Booster Club will hold a social at the Vargas restaurant in Liberal from 7 p.m. until 8 p.m. and this event is also open to the public. After the basketball games on Saturday, the Saints Alumni Association will host a social at the Liberal Country Club from 7 p.m. until close.
Chaz Eiguren (1995-96) is in the top 5 all-time in six major hitting categories in Saints history. His 37 home runs and 156 RBIs trail just Saints Hall of Famer Cory Patton, and his .444 career average and 150 hits rank fourth. As a freshman, Eiguren was named the Jayhawk West Freshman of the Year. He followed that up with a sophomore campaign in which he won the NJCAA Central District Big Stick Award with a .497 batting average. He was named the Jayhawk West Most Valuable Player and a 1st Team NJCAA All-American.
Dave Brown was the head men's basketball coach at Seward County Community College for 11 seasons, guiding the Saints to Jayhawk Conference Western Division titles in 1998 and 2002 and four other league runner-up finishes. Brown holds the program record in most wins with 253 against 104 losses and an all-time winning percentage of .709. In 1998, he led the Saints to a Region VI championship and a third-place finish in the NJCAA Tournament. During his tenure at Seward County, Brown was named the Jayhawk West coach of the year three times (1998, 2002, and 2005). In his second season at the helm, Brown led the Saints to the most wins in a single season with a 35-3 (.921) record in the 1997-98 season.
Before taking over the Seward County program in 1996, Brown served as an assistant at Seward County for four seasons (1992-96) under Dale Reed. Brown coached four first-team NJCAA All-Americans, five Jayhawk West Most Valuable Players, three Jayhawk West Freshmen of the Year, and nine of the top 10 leading scorers in Saints basketball history.
Seward County athletics events have been heard by the Voice of The Saints Brock Kappelmann since 1999. In January of 1998, Kappelmann started to cover the Athletic programs at Seward County as a journalist and took over the play-by-play duties for the 1999 seasons. Kappelmann has broadcasted over 2,500 SCCC events and many more Liberal Kansas sports events to the community. The Lady Saints won the 2002 NJCAA National Championship in Salina, Kansas, with Kappelmann courtside in Tony's Pizza Arena, formally known as the Bicentennial Center. Kappelmann has covered 11 Region VI titles across women's basketball, men's basketball, and baseball.
Throughout the years, he has interviewed countless coaches and student-athletes for all seven varsity sports here at Seward County. If you have a history question regarding SCCC athletics, Kappelmann can provide the date and key moments throughout the history of the Saints.
We have been honored to have Brock Kappelmann involved in Seward County Athletics for years to come. We appreciate his dedication to his craft as he continues to provide journalism coverage of Seward County Athletics.
The Seward County Athletic Department is excited to induct these three well-deserved individuals as we honor their contribution to SCCC. If you have any questions about the events or specific events happening that weekend, feel free to reach out to the Saints Athletic Department at (620) 417-1551.