Seward County Retires Drug Dog Niko
Joe Denoyer - April 29, 2021 4:55 pm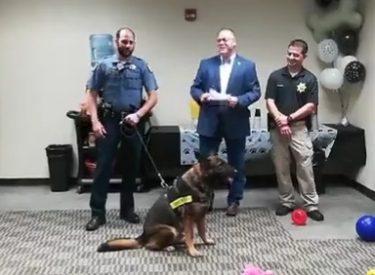 Niko was born May 5th, 2013 in Poland.  He was purchased when he was 14 months old with the assistance through the Baughman Foundation and has been with the Seward County Sheriff's Office since 2014.  
When Niko was flown from Poland to Kansas City, sometime during the flight, Niko woke up and in typical Niko fashion chewed a hole through his crate, just big enough to fit his head through.  This was the first sign of things to come.  In Nikos career he is responsible for the demolishment of a steering wheel and door panel in his patrol car, a rubber door-stop in the office and several cardboard boxes, and a book that was taking a little too much of Bo's attention away from him, just for starters. 
Deputy Bo Jacobs went to Ottawa and spent the next 8 weeks training and bonding with Niko.  That bond was instant and the two graduated the class and they came home not only as a working team, but much more importantly as partners.  Niko was trained in Narcotics Detection, Suspect Apprehension and Tracking.  Niko has assisted multiple agencies surrounding Seward County, as well as the Kansas Bureau of Investigations, Kansas Highway Patrol, District Taskforce and The Drug Enforcement Agency.  Niko is certified through 2 nationally recognized organizations, The Kansas Police Dog Association and National Narcotics Detector Dog Association. 
In Niko's career he has been deployed 632 times, seized approximately half a million dollars in cash and narcotics.  Thousands of pounds in illegal narcotics, performed hundreds of tracks and assisted with numerous search warrants.  Niko has been an entangled part in keeping drugs and criminals off the streets and schools of Seward County.  Niko has done numerous demos and brought many smiles and laughter to our youth in surrounding schools over the years. 
Some people will say that Niko is only a dog, but to Sgt. Bo Jacobs, Niko is so much more.  Bo and Niko have been by each other's side for the past 7 ½ years.  Niko is a partner to Bo and without a doubt has always has his back.  The bond between a K9 Handler and a K9 could never be put into words or really understood unless it is experienced personally.  When Bo gets out of his patrol vehicle you can rest assure that Niko was watching every move, making sure that Bo is safe. 
In Niko's retirement, Deputy Wyatt Sharp and his K9 partner Wrasel will take over the watch in keeping Seward County safe and battling the war on drugs, So please join me in wishing Niko a wonderful and fun retirement.