Seward County PRCA Rodeo Schedule of Events
Joe Denoyer - August 18, 2023 12:24 pm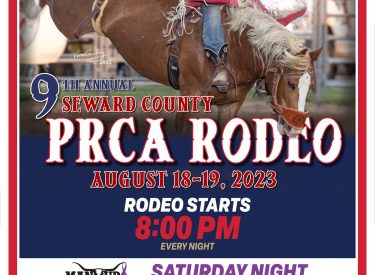 FRIDAY AUGUST 18, 2023– PERFORMANCE #1
"CRAZY HOUSE" KIDS NIGHT
All kids 12 and under get in free with the purchase of an adult ticket.
Gates open at 6:30PM
Mutton Bustin brought to you by Golden Plains Credit Union and Beaver County Stockyards
Starts at 7PM
Kids Boot Scramble brought to you by Al Shank Insurance and Bank of The Plains starts right after the Mutton Bustin. There will be 4 age groups: 4-5, 6-7; 8-9; and 10-11
Sign up at the West Arena Fence Gate
Performance #1 of the 9th Annual Seward County PRCA Rodeo starts at 8PM
There will be an auction for a 2023 Seward County PRCA Rodeo Belt Buckle made by Montana Silversmith.
​
SATURDAY AUGUST 19, 2023
PARADE AT 11:00 AM
MUTTON BUSTIN SIGNUPS AT 1:00 PM
CRAZY HOUSE IN LIBERAL
Kids ages 8 & under weighing 60#'s or less
First 15 signed up will ride Saturday night at 7PM –
Gates open at 5:30 PM
Mutton Bustin brought to you by Sonic and Beaver County Stockyard and Abbott Construction will kick off at 7PM. Championship at intermission.
Kids Boot Scamble brought to you by Al Shank Insurance and Bank of The Plains starts right after the Mutton Bustin. There will be 4 age groups: 4-5, 6-7; 8-9; and 10-11
​Sign up at West Arena Fence Gate
FINAL PERFORMANCE OF THE 9TH ANNUAL SEWARD COUNTY PRCA RODEO STARTS AT 8PM
There will be an auction for a 2023 "Man Up" Seward County PRCA Rodeo Belt Buckle made by Montana Silversmith. Championship Mutton Bustin
​